Improve Your Interior with Wood-Look Tile in Decatur, IL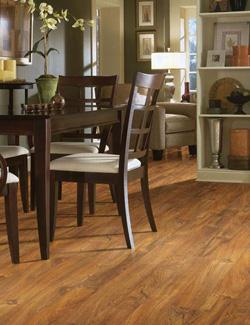 It's time to realize your plans for the perfect home. At Flooring America, you have everything you need to complete your interior remodeling project. We offer a vast selection of wood-look tile in Decatur, IL. When you visit our location, you will find the right products that will meet your needs. Along with our personalized service and professional installation services, getting long-lasting results is a simple and rewarding experience.
The Wood-Look Advantage
With its durability, good looks, and versatility, there is little wonder why wood-look flooring is so popular. Our showroom is a proud supplier of both wood plank porcelain and ceramic tile. We have many samples of flooring on display. There are many designs and styles to choose from, allowing you to steer your interior design in a limitless amount of directions.
Porcelain and ceramic wood tile look great in any room. True to its namesake, these flooring products successfully emulate the look and feel of natural, solid hardwood. Now, you can enjoy the beauty and majesty of species like pine, mahogany, and oak in any room you like.
Of course, flooring offers more than transforming your home--wood-look floors are a practical investment. First, these floors are made from naturally sourced materials, porcelain and ceramic. The manufacturing and finishing process creates flooring that is dense and solid. As a result, this flooring type is built to last. It holds up against heavy foot traffic, and it resists the effects of drops and impacts.
Wood plank ceramic tile and its porcelain counterpart are also water-resistant. These floors are finished with specialized glazes that give them protection against spills and stains. This makes cleaning your flooring easier. Ceramic and porcelain will not shrink, warp, or change shape due to moisture, either--this makes wood-look tile a great addition to spaces like the kitchen, bathroom, or basement. Another benefit to this flooring is its heat dispersion properties, which allows your home to remain cool during the warmer months.
We are Your Dependable Flooring Center
Come in with ideas and leave with a complete plan: we are with you at each step. Our showroom associates are well-versed in interior design, remodeling, and flooring. We will work with you to work out the details of your project. We also offer free, in-home measurements so that you gain a solid idea of the size and scope of your project.
When it's time to put those plans into action, we're here to put on the finishing touches. You can count on our team for professional installation of your new, ceramic or porcelain wood tile. Our experienced and skilled team ensures seamless installation, which allows your flooring to look great and last long.

Contact us to learn more about our selection of wood-look tile. Our flooring showroom is located in Decatur, IL, and we serve customers in Forsyth, Mt. Zion, Macon, Solomon, and the surrounding area.