Luxury Vinyl Plank Flooring in Decatur, IL
Discover new and exciting luxury vinyl plank remodeling options at Flooring America Decatur.
As the area's leading source for luxury vinyl planks in Decatur, IL, we make it easier to attain picture-perfect interiors. Whether your plans involve a single room or a complete home makeover, you can count on us to help you reach your re-flooring goals. From our vast product catalog to our customer-oriented approach to service, we are your home improvement ally. Visit our flooring showroom in Decatur, Illinois, today to start browsing our luxury vinyl planks!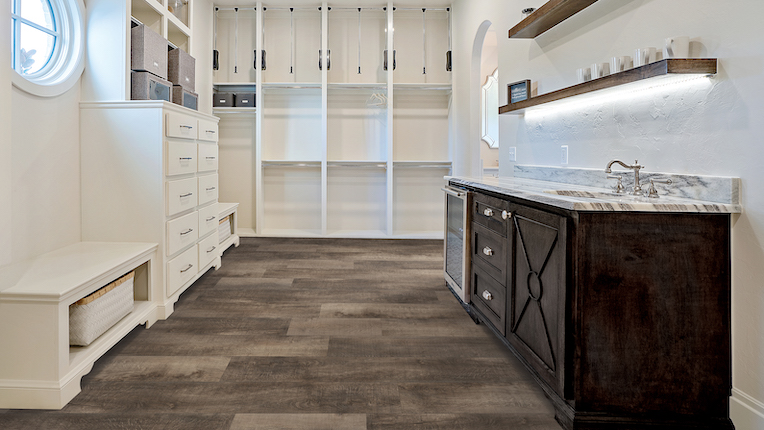 What Are Luxury Vinyl Planks Made of?
Often shortened to LVP, luxury vinyl plank flooring offers a plethora of features that will elevate your home's interior design—all while adding convenience to your usual routine.
Luxury vinyl planks are composed of four durable layers designed to show off gorgeous wood looks without sacrificing waterproof durability. These layers include:
Back Layer: Offers a stable structure for the entire plank and protects the subfloors.
Core Layer: The waterproof rigid core stands up to heavy traffic and offers a comfortable feeling underfoot.
Photo Layer: Enjoy the authentic look of hardwood in a variety of realistic species, colors, patterns, and textures.
Wear Layer: This clear top layer provides protection from everyday accidents, spills, and moisture.
Popular Luxury Vinyl Plank Styles
At Flooring America Decatur, we strive to offer our loyal Decatur customers versatile styles and impeccable quality. That's why we carry industry-leading brands including COREtec, Shaw, Mohawk, and many more. At our local flooring store, you'll find both trendy styles as well as timeless classics to match any interior design. Whether you desire a rustic farmhouse look, the rich hues of mahogany, a bright and airy white oak, or neutral grey wood tones, we have it all at Flooring America of Decatur.
Luxury Vinyl Planks vs. Hardwood Flooring
Luxury vinyl is a popular hardwood flooring alternative due to its improved performance. Real wood floors are a significant and gorgeous investment but are not suitable for all homes. Moisture is often an issue with wood floors, causing it to expand, contract, warp, or crack if proper moisture levels are not maintained. Luxury vinyl offers the same look and feel as wood, but at a lesser cost, with faster installation time, and waterproof durability.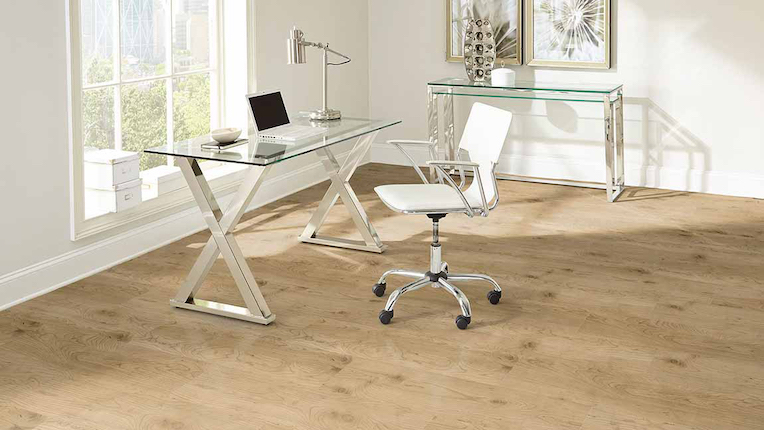 The Advantages of Luxury Vinyl Plank Flooring
Improve the look, feel, and value of your home. With luxury vinyl plank flooring, your options are limited only by your imagination. With its strength and aesthetic appeal, luxury vinyl is always a smart choice.
Some of the standout features of this flooring include:
Aesthetic Appeal
Luxury vinyl is praised for its resemblance to solid hardwood. Thanks to contemporary manufacturing methods, this flooring successfully mimics the appearance and texture of popular wood species, such as oak and pine. With LVP, you have the flexibility to re-floor moisture-prone areas like the bathroom or basement.
Waterproof Durability
With good looks also comes toughness. LVP is known as resilient flooring since it has a distinct composition that has a hard and solid surface. It withstands the impacts and bumps, including foot traffic and the shuffling of chair legs. It is designed and built to last a long time while resisting moisture and spills. That's why active households love waterproof LVP Flooring!
Ease of Maintenance
Spend less time cleaning and do more of what you love. LVP flooring is highly resistant to water. In conjunction with its solid surface, it repels spills, dirt, and dust handily. This makes cleaning up simple and quick. Thanks to its ease of maintenance, LVP is a popular addition to high-traffic areas, like the kitchen and living room.
Indoor Comfort
LVP's composition and thickness make it a good insulator, which means your heating and AC systems will not work as hard keeping your interior comfortable. This insulation also absorbs sound well. With this flooring, you will enjoy better acoustics and sensible indoor temperatures.
Your Local Decatur LVP Remodel Store
At our location, you may browse samples of the latest LVP flooring, and get helpful insights on the re-flooring process. We offer in-depth consultations with our knowledgeable team, allowing you to work out all of the details of your project. We will listen to your needs, design preferences, lifestyle, budget, and asses your current space to guide you in selection.
Enjoy Luxury Vinyl Plank Flooring Installations
Attain lasting, picture-perfect results with our luxury vinyl plank floor installation services. Our in-house flooring technicians are highly skilled and thoroughly experienced. We take on flooring installation projects of any size and scope. We're here to handle the hard work so that you may enjoy your new flooring as quickly as possible. We will properly measure and cut the planks, hand-select a variety of grain patterns, and precisely install each luxury vinyl plank for a professional look that lasts.
Further, our local contractors are invested in the success of your project. So much so that we back each professional installation with our Adore Your Floor Guarantee. This promises to replace or fix your floors at our own expense in the unlikely event you experience any issues. Trust Flooring America Decatur for a quick and easy luxury vinyl plank flooring installation!

Contact us to learn more about our catalog of luxury vinyl plank flooring. We proudly serve customers in Decatur, IL, as well as Forsyth, Mt. Zion, Macon, Solomon, and the surrounding area.