Hardwood Flooring in Decatur, IL
Enrich your home with luxurious hardwood flooring in Decatur, IL. Adding hardwood floors to your home gives it character and personality while dramatically increasing its real estate value. Consider our flooring store first for your flooring renovation project.
Beauty & Strength that Lasts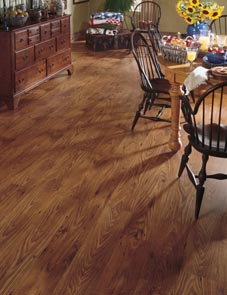 Make the best choice for your home by understanding the benefits of hardwood. Hardwood floors are known for having a distinguished and refined appearance. Rooms with these floors exude natural beauty and sophistication. Whether you are renovating a formal master bedroom or designing a friendly living room, an upgrade with hardwood will act as the perfect complement.
Enhance the style of any room with hardwood floors. Our priority is to make your shopping experience enjoyable and successful. From product selection to installation, our experts will ensure your budget and style requirements are met. Let us help you find the best product for your design preferences. We will be your guide as you consider all the following hardwood flooring options:
Brands
Glosses
Shades
Planks or Strips
Affordability
Decorative Effects (I.E., Edges & Ends)
Features of Engineered Hardwood Flooring
Enjoy a luxurious look while staying within a set budget by choosing engineered hardwood. This flooring option leaves more money in your wallet while supporting the green movement as an eco-friendly option for your home. The wood itself is made from layers of materials, many of which are recyclable. The top surface of the plank is 100% authentic wood, so you have the hardwood appearance you desire.
For scratch resistance and top-notch performance, an engineered hardwood floor is our suggested alternative. Engineered hardwood is the preferred wood flooring option for basements, entryways, and other areas that are prone to humidity and moisture. You do not have to worry about it warping due to absorbing water.
Solid Hardwood Flooring Qualities
Solid hardwood flooring gives a timeless look to any home. Whether your style is rustic, contemporary, modern, craftsman, traditional, Victorian, bungalow or other, solid hardwood floors are the way to go. This type of hardwood can be sanded or recoated to complement home-improvement projects. However, you do not want to put this flooring in spaces prone to humidity or scuffing. When in doubt, ask our qualified flooring professionals for assistance with the selection and placement of your new floors.
Professional Hardwood Flooring Installation
Make sure your hardwood floors are installed correctly the first time by relying on our skilled team of professionals. Installation does not have to be costly. Our installation rates are the best in the area. At our flooring company, we truly care about providing the best hardwood flooring installation services and products for your home.
Our Pledge
To provide you with a level of personalized service that is unmatched by any home improvement center or other flooring store – and to do everything in our power to earn your trust, business, and recommendation to your friends.
---
Contact us at 217-615-4710 for more information about our selection of hardwood flooring. We proudly serve the communities of Decatur, Forsythe, Mount Zion, Macon, and Solomon, Illinois.