Luxurious Carpet Flooring in Decatur, IL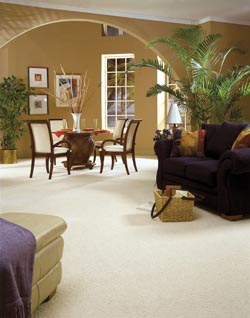 Come to Flooring America to shop for carpet flooring in Decatur, IL. One of the most popular flooring products for business and homeowners, our carpet options are versatile, comfortable, and add a warm and welcoming atmosphere to any room. Our carpet products come in many different colors, textures, and styles, and there are a variety of carpet materials, such as nylon, polyester, and wool.

With so many options, it's easy to find the ideal carpet for any home that is sure to satisfy in looks, performance, and price. We also offer professional carpet installation from certified installers, which guarantees your floors will look great and last long. Our fully stocked showroom includes a variety of carpets from all of the following trusted manufacturers:
Innovia™
Just Shorn™ New Zealand
High-Quality Carpet Options
The sheer variety of types of carpet floors make them suitable for almost any room in the house. New carpet is an easy and affordable way to upgrade your spaces. Our numerous carpet options come in a variety of textures, designs, and patterns, including loop and twist. A carpet's texture is an important part of its flexibility.

Springy carpet flooring provides a safety boost to your home, allowing softer landings for children or people with limited mobility. Thick carpet offers a luxurious look to a living room or family room, while absorbing noise. Thin, soft carpeting provides eye relief from hard wall surfaces. Any carpeting can be the hypoallergenic choice, trapping dust, dander, and other irritants at floor level, away from your lungs and eyes.
Carpet Installation on Your Schedule
Your carpet purchase includes a free in-home measurement so that you can be sure you are getting exactly as much carpeting as you need. Our skilled, expert installation proceeds on your schedule, reducing the disruption to your home. All of our installations are performed by professional installers who are highly trained and experienced at carpet installation. In addition, our carpet store has the most comprehensive guarantee in the industry, so if you aren't satisfied with your new floors and let us know within 30 days, we'll replace them at no cost to you!


Contact us at <PHONE> for more information today. We proudly serve the communities of Decatur, Forsyth, Mt. Zion, Macon and Solomon, Illinois.